Who rides with our Raxskis?
Skiers on piste
enjoy the perfect carving the first time in their lifes. For the new RaxSki turns on short "cutting edge", located parallel to the ski edge just at the heel of skier. This new ski control lets you turn without skidding even on icy spots and soft moguls. We call it "HighTech Carving"®, our new European Trade Mark. Yeah, the RaxSki can carve even off-piste…Old dreams can come true with RaxSki.
Freeriders off-piste
we have invented this ski for ourselves and we belong to you! No "jump turns" around each tree more needed. Just keep your balance and surf or carve effortless down the slope. This means higher performance by new technology.
Beginners at any age
you will find that this light ski will understand you. Just twist your knees and the ski starts turning. No angulating, weight transfer, nothing! Well, your knees and boots control the direction the same way as the steering wheel in your car.
But this ski also got the brake. Just lean back and rear fins start cutting the snow and braking. To your suprise you will not fall back but stop and keep upright.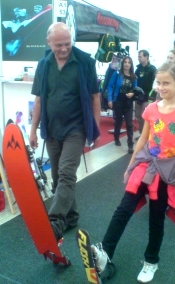 Children and youngsters
for they are still free from established skiing conventions. They quickly discover the potential of the new ski and learn the unknown technique in no time. RaxSki gives them the opportunity to grow and to ski circles around shocked parents.
Snowboarders, especially the best ones
you would never step in a ski binding but the RaxSki is like the early-days snowboard: a revolt against the skiing establishment. Like a "rocker board" the RaxSki lets you rock on its bent base for easy turning.
Ski touring
We pity you, ski hikers suffering in deep and steep snow when you have to descend on your clumsy long skis. Change your material and habits and enjoy the slush!Add Your Bulleted List here
Mountain rescue service
RaxSki is the WORKHORSE among all skis. Wearing RaxSkis in extreme terrain lets you concentrate on rescue action. They will obey you and come through trees and bushes. They can even carve in grass. Light climbing boots for crampons can be used with RaxSki.
Snowblade, "firngleiter" and other short ski riders
you need no explanation about how to ride RaxSki! Rear fins make your "shorty" track better and let you lean back without a fall.
Telemark-riders and mono-skiers
I feel guilty that you are still waiting for our first TeleRax and MonoRax. Rocking on a monoski with huge rear fins could become the ultimate fun in powder.
Car drivers in general
RaxSkis fit in your luggage trunk. Model "Joker" is as short as a seat.
Wives and girl-friends of skiing experts
RaxSki allows you to chase the trace of your big teacher! While carving on your rear fins in the woods watch him jumping on his conventional skis.
Experts themselves
but that's not an easy mission! Because each of them has skied for tens of years and got the best material ever. Just the best of them do not feel ashamed to ski on a ski shorter than 180cm.